Denyse Beaugrand-Champagne
BP 42014, Succ. ROY
Montreal Quebec
H2W 2T3 Canada

Responsiveness to eInquiries:
For your own email program to contact this professional
Services Products Research Specialties:
Canada
Quebec
Missing People
Living Relatives
Probate Heirs
Historian
French Translation
Databases
Publication 9
Visit our website at http://www.histoquest.ca
eXpertGenealogy Professional listing since June 2004


Province of Quebec. Regardless of country of origin, language or religion.
QUEBEC is one of the oldest European settlements in North America and has extraordinary historical, judicial, religious and civil archives which cover more than 400 years of history. We have an extensive knowledge of these archives, and regardless of your ancestors country of origin, language or religion we will help you find them.

Research fees are shown on the web page at http://histoquest.ca/fees.htm

Denyse Beaugrand-Champagne is a genealogy consultant who has done extensive research for numerous European, Canadian and American families, heir search and probate research firms, attorneys, notaries and American and Canadian Public Trustees.

She is part-time Reference Archivist at Bibliotheque et Archives nationales du Quebec, Montreal Centre; she can be seen with Rosie O'Donnell on the Who do you think you are? series (NBC); she was the genealogist for the series ORIGINES (HISTORIA) on the genealogy of its first settlers and their descendants. She was the genealogist behind the on-line database of landowners and tenants of Montreal, for the period 1642 to 1805, of the Canadian Centre of Architecture, at http://cca.qc.ca/adhemar/.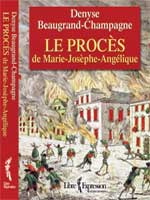 ▲Visit the genealogy professional website at http://www.histoquest.ca
▲Click here for a more detailed genealogy research inquiry/enquiry form
▲Enter your email address and have this genealogy professional contact you.

Professional Genealogy listing viewed 28563 times
Genealogy Professional eXpertGenealogy.com/?x=HISTOQUEST 727 0
Professional Genealogists, Ancestry & Family Tree History Researchers, Genealogical Research, Geneology, Canadian Ontario Quebec BC British Columbia Alberta Manitoba Saskatchewn Nova Scotia New Brunswick PEI Prince Edward Island Newfoundland Labrador Yukon Northwest Territories Nunavut Toronto Montreal Vancouver Edmonton Calgary Saskatoon Regina Victoria Halifax Winnipeg Ottawa Hamilton Niagra Windsor London Brantford Charlottetown Moncton St.John St.John's Canadian Quebec City Montreal Abitibi Acton Argenteuil Arthabaska Bagot Beauce Beauharnois Bellechase Berthier Bonaventure Brome Chambly Champlain Charlevoix-Est Charlevoix-Ouest Chateauguay Chicoutimi Compton Deux-Montagnes Dorchester Drummond Frontenac Gaspe-Est Gatineau Hull Huntingdon Iberville Iles-de-la-Madeleine Jacques-Cartier Joliette Kamouraska Labelle Lac-Saint-Jean Laprairie Laval L'Assomption Levis L'Islet Lotbiniere Maskinong? Matane Matapedia Megantic Mississquoi Mistassini Montcalm Montmorency Montmagny Napierville Nicolet Nouveau Papineau Pontiac Portneuf Richelieu Richmond Rimouski Riviere-du-Loup Rouville Saint-Hyacinthe Saint-Jean Saint-Maurice Saguenay Shefford Sherbrooke Soulanges Stanstead Temiscamingue Temiscouata Terrebonne Vaudreuil Vercheres Wolfe Yamaska Missing People Living Relatives cousin aunt uncle mother father grandmother grandfather sister brother sibling neice niece nephew son daughter grandson granddaughter Missing Heirs Probate Historian French Databases Publication Book Journal Periodical Magazine Article